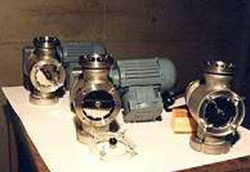 Cellular wheelsluice
Cellular wheel sluice 20-80 rpm in stainless steel with electrolytic polished finish. With a self-aligning bearing, by which an easy dismantling and assembly of the cellular wheel is possible e.g. for cleaning purposes. Infinitely variable speed transmission adjustable for capacities from 20 to 80 ltr./h. The cell wheel sluice is suitable for dosing fluid kind (trickling), pulverulent or granulated material for the chemical, pharmaceutical and related industry.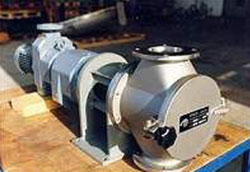 Cellular wheelsluice
Cellular wheel sluice 24 rpm in material 1.4541 (stainless steel casting). Other discharge capacities are available by mounting another variable-speed motor. Dischargeable contents are granulated and pulverulent materials of the chemical industry.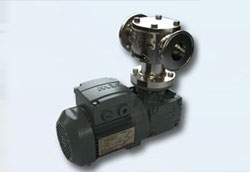 Cellular wheelsluice
Description: 25-100 l/h
Material: 1.4404
Design Atex design