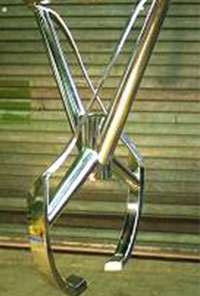 Agitator
Agitator in material 1.4571, grinded with grit 320 and electrolytic polished. The agitator is in a machined cylindrical vessel with a flat cover on one side and a semi-hemisphere head on the other side.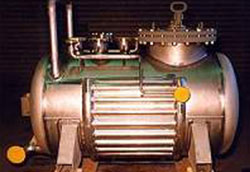 Transportable vessel
Transportable vessel 1000 ltr with semi-pipe coil heating on the shell and heated nozzles. All product touched parts, the semi-pipe coil and the jackets on the nozzles in material Hastelloy C4 (2.4610).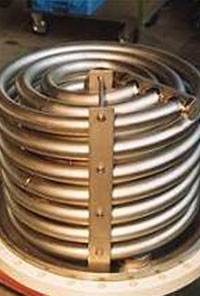 Heating coil
Heating coil 4 m² in material titanium 3.7035, three row with collector pipe. Pipe dimension Ø 48.3 mm x 2.77 mm, bending diameter of the heating coil Ø 300 mm, 440 mm, 580 mm.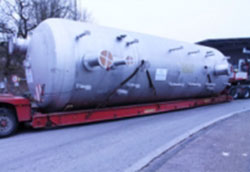 Cutter
Cutter 1.4462, Ø 3800 x 15 m